Sample Charter Rates
Specials and Discounts
Over 125 persons? Please contact us.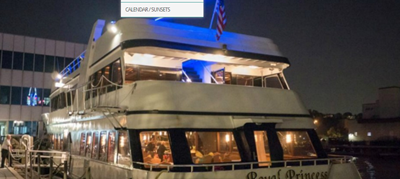 Motor Yacht Royal Princess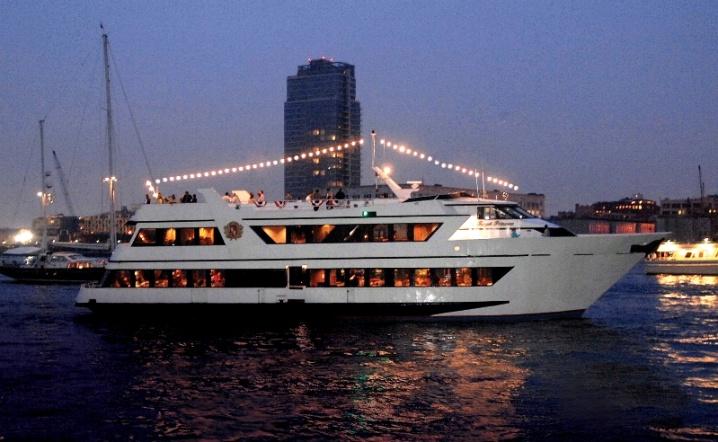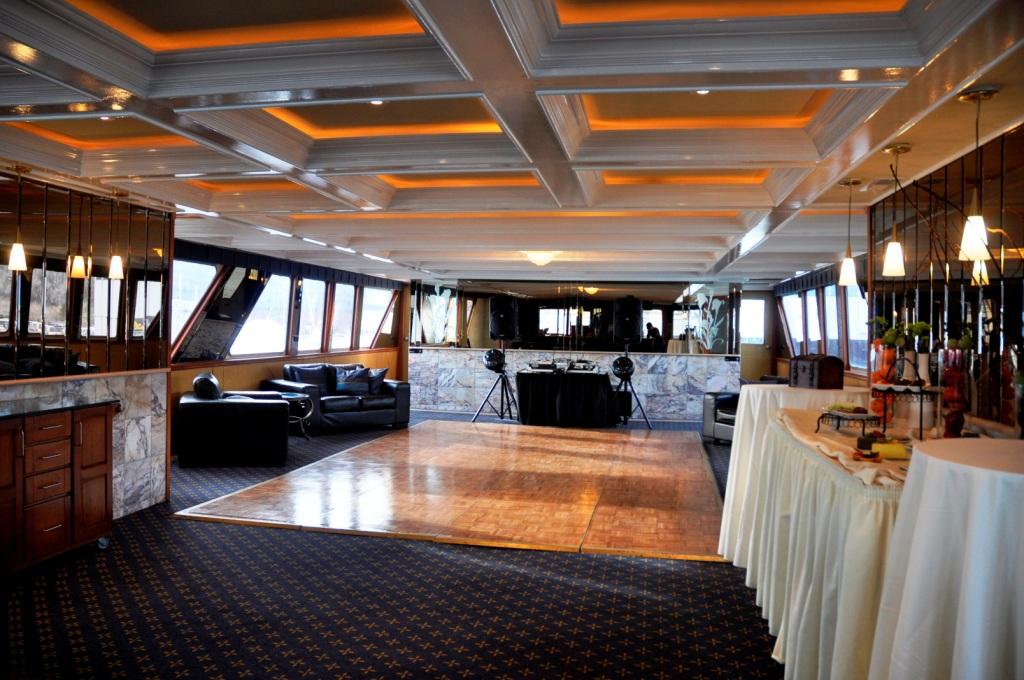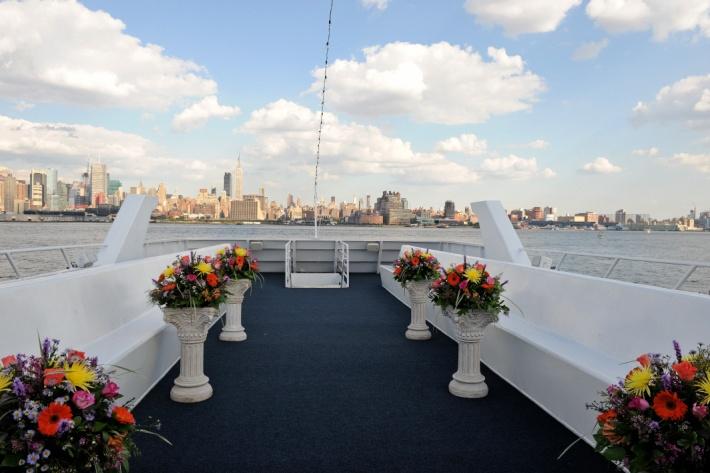 For More Info:
Royal Buffet Menu
Cocktail Hour

Butlered Hors D'oeuvres:(Select 4)
Assorted Petite Quiches
Shang Hai Min Vegetable Spring Rolls w/Hoisin and Chili Glaze
Miniature Spinach and Feta Triangles with Toasted Almonds and a Yogurt Dipping Sauce
Gourmet Petite Franks in Warm Crescent Rolls
Chicken & Cheese Taquitos
Salsa and Cheese Quesadillas
Assorted Puff Pastries
Crispy Chicken Egg Rolls

Upgrades I: (add $2pp to replace or $4pp as additional choice)
Mini Beef Sliders
Pulled Pork sliders
Gourmet Pizzas
Smoked Salmon on Cocktail Pumpernickel
Mini Philly Cheesesteaks
Warm Baked Gorgonzola and Lingunberry Puffs
Curry-Scented Jamaican Beef Pastries
Oven Baked Clams Oreganata
Premium Mini Crab Cakes with Creole remoulade
Thai Style Beef OR Chicken Sate
Marinated Mozzarella and Cherry tomato skewers
Asparagus and Smoked Salmon Wraps
Orange Ginger Pork Lollipop




Upgrades II: (add $3pp to replace or $6pp as additional choice)
Shrimp cocktail
Mini Beef Wellington
Blini with Caviar
Coquille St. Jacques (scallops in mornay sauce with melted swiss)
Variety of Miniature Soup shots
Mini Reubans
Scampied Shrimp in Puff Pastry
Garlic Flan with Baby Shrimp
Baby Lamb Chops (add $6pp to replace or $10pp in addition)

Stationary Upgrades:
Stationary Appetizer Display (add $5pp)
Domestic Cheeses, Veggies and Dip,
Assorted Chips, Salsa, Hummus, Pita, Bruschetta & Crostini




International Gourmet Cheese Display (add $10pp)
with Fresh Fruit, Crackers, Pate, Artisan Bread

Antipasta Station (add $12pp)
International Charcuterie and Assorted Cheeses

Cold Seafood Station Add $25pp
A colorful display of cracked Lobster tails and claws, Peeled Shrimp, Cold Poached Salmon, and variety of chef's choice of Seafood Salads with traditional Cocktail Sauces

At The Buffet

Salad Selections (Select 1)





Mixed Hudson Valley Field Greens
with classic accompaniments and assorted dressings including Oil & Vinegar
or
Classic Caesar Salad (Romaine Lettuce, Caesar dressing, croutons, etc.)

Tri-color salad with roasted pears, sunflower seeds, gorgonzola (add $2pp)



Entrees (Select 2)
Rosemary Scented Roast Chicken w/Tricolor Peppers OR Olive Oil, Sage, Thyme
Caribbean Style Jerk Chicken
Classic Chicken Parmesan
Boneless Onion Crusted Chicken Breast
Chicken Cacciatore (Tomatoes, Red Wine, Onions, Garlic)
Chicken Royal Princess (Baked with artichokes, capers, olives, sundried tomatoes)
Classic Meatballs either roasted or in tomato sauce
Italian Sausage/Peppers
Eggplant Parmesan
Baked Tilapia with Lemon, Dill, Butter OR with Capers
Carved Top Round London Broil with Horseradish
Roast Rubbed Pork Loin with Port Wine Jus OR with Apples/Calvados OR Peaches/Bourbon
Carving of Brown Sugar and Maple Glazed Ham
Baked Stuffed Clams
Slow roasted braised boneless beef short ribs
Steamed Mussels in White Wine, Garlic or Red Sauce
Chicken Francaise boneless with lemon, capers, and butter (add $2pp)
Chicken Marsala (add $2pp)
Baked Salmon with Lemon and Dill (add $5pp)
Baked Salmon Teriyaki (add $5pp)
North Atlantic Cod w/Lemon Butter Crumbs or Oliv

e

Oil, Tomatoes & Basil (add $5pp)
Shrimp Scampi (add $5p)
Carved Prime Rib-Eye with Au Jus (boneless) (add $8pp)
Roast Filet Mignon – (add $15pp)
Additional entrée @ $10pp
Accompaniments (Select 3) Roasted Medley of Broccoli, Cauliflower, and Carrots
White, yellow, or tomato rice, (plain or with choice of black or red beans)
Haricots Verts Almandine – tiny French green beans sautéed with butter and almonds
Roasted Baby Red-Skinned Potatoes with Rosemary
New England-style Herb and Butter-Boiled Potatoes
Baby Bella mushrooms and cippolini onions
Ratatouille Provencal – summer vegetables slow-simmered w/tomatoes & herbs de Provence
Roasted or Mashed Yams
Bourbon and Brown Sugar Glazed Carrots
Garlic Smashed Yukon Gold Potatoes
Baked or Mashed Butternut Squash
Sugar Snap Peas (add $2pp)
Baked Potatoes or Jacket Sweet Potatoes (add $2pp)
Roasted Asparagus (Add $2pp)
Roasted Brussels Sprouts with Chestnuts (add $2pp)
Baked Mac & Cheese (add $2pp)
Pasta: Select type (Penne, Farfalle, Campanelli with either Marinara, a la vodka, pesto, basil cream, Fresh Tomato/Basil) (OR Bolognese add $2pp) Dessert Coffee and Tea Station (Select 1)
Fresh Baked Giant Cookies (choose two - chocolate chip, sugar, oatmeal)
Brownies with Assorted Toppings
Mini Cannolis/Biscotti
Vanilla or Chocolate Sheetcake with Vanilla/Chocolate Icing

Dessert Upgrades (Select 1 at additional $5pp)
Assorted Sliced Layered Cakes
Mini Eclairs and Crème Puffs
Chef's choice of seasonal fresh fruit
Additional selections of above @$5pp Viennese Table(add $10pp)
Includes chef's choice of miniature pastries, cannollis, cupcakes, Italian cookies, etc. Candy Bar(add $10pp)
assorted candies with take-home treat bags Additional menu options can be discussed including individual plated desserts

King's Court Menu
It's been a few days since our wedding on The Royal Princess Charter Yacht this past Sunday, October 2nd, but Sean and I continue to hear great feedback from our guests. Everyone has raved about the hors d'œuvres, the main meal, the enthusiasm and professionalism of the staff and crew, and quite simply how much fun our wedding was. To judge from all the people who mentioned it, the candy table you put out was a huge hit. So was the goat cheese and fig spread during the cocktail hour (how did I miss that?!). The music was perfect, with the processional and recessional music coming off just right. I'm glad we went with your recommendation of Langdon for the flowers: everyone remarked how great the arrangements looked. But the one comment I keep hearing again and again is just how fun and friendly and just plain nice the staff were during our cruise. Having attended a fair number of boring weddings myself, it's nice to know that our guests never wanted our event to end, finding the whole experience unique and fun. My only regret is that it all went so fast. Oh, and that we didn't eat more of those great hors d'oeuvres.
Thank you so much for making Time Warner Cable's 2011 Summer Corporate Event such a success. I have gotten nothing but great feedback from all of the employees. Your staff did such an outstanding job ensuring that this event went without any glitches. Captain Rob was so amazing in the process of ensuring that our staff felt welcomed! What a great team you have.
Thank you
The event surpassed my expectations. I knew it would be a special affair but this party was beyond what I had imagined. All had a great time.
I loved having a direct line to the owner of the boat. You don't find that with most boat/yacht companies, in fact, I searched a while before finding the actual owner of the boat who walked me through every step of the planning process; with patience! I enjoyed all conversations with Lezlee and loved having her cell phone; it was nice to know she would always answer! On board, the Maitre D, Katie, was most helpful. She was great to work with the day of the party as was Captain Rob. We used him for a few photo opportunities with the Captain's wheel and it meant the world to both my children that they were able to go and actually drive the boat! They will NEVER forget that!
One more note, the chef, Anatoli, was terrific too. He checked with me several times to make sure that I was satisfied with both the amount and the quality of the food. Sabrina will never forget her communion celebration aboard the Royal Princess! I would love to do my son Jimmy's communion party aboard the Royal Princess, that will be Spring, 2012!
I am still in the clouds over how wonderful the day was. Everything at the Bat Mitzvah was perfect. The food was better than I expected, the staff was lovely, the set- up worked perfectly for the flow of guests throughout the boat.
Everyone was great! I especially want to thank you for putting me in touch with Kathleen—she was amazing. Katie was as sweet as can be, and the male dancer she hired was terrific with the kids. He really knew how to draw them out. It was truly a wonderful event!